Orfitrans Medium Soft
Orfitrans Medium Soft is a flexible material that is structurally sound and will not cold flow at thinner areas of the flexible interface. The flex modulus is optimized for working with vacuum technologies.
The material will flex inward toward the limb when sitting. It will maintain its shape and the volume does not change or stretch outward. It allows for the change or flattening of the limb when sitting. This ensures that the socket will conform to the change to prevent loss of suspension while maintaining comfort.
Product Characteristics
Rigidity
Semi-flexible material.
Tougher than Orfitrans Extra Soft.
Transparency
The socket is semi-transparent.
Low Shrinkage
No risk for excessive pressure or compression.
The socket material will keep the shape and dimension determined by the mold.
Friction
Negligible stickiness or tackiness.
Greatly reduced friction.
Talcum powder can be used but is not required.
Working properties
Easy to mold.
Pulls easily and uniformly.
Bubble forming.
Non-sticky.
Cold flow
Does not absorb oils or moisture, which may cause cold flow issues.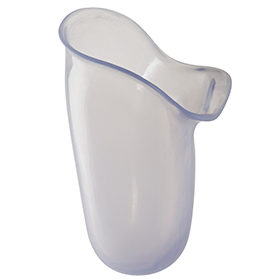 Find your Orfit-distributor
Interested in our solutions? Contact your local Orfit-distributor for information, inquiries and prices.