Orfitrans® Stiff
The Gold Standard
Orfitrans Stiff is everything you want and need in a check socket material.
This very rigid transparent material will not break, crack or shatter when dropped. It is virtually indestructible, but you can still easily drill into Orfitrans Stiff. You will love the way it pulls (easily and uniformly) and the material feels great.
No other material comes close to Orfitrans Stiff in performance and quality. Once you start to use Orfitrans Stiff you will immediately know why it is the "GOLD STANDARD". If you are having difficulties with socket material that is too brittle and cracks or shatters when dropped, Orfitrans Stiff is what you need.
It is available in thicknesses of 8 mm, 10 mm, 12 mm and 15 mm.
Product Characteristics
Rigidity
Most rigid product of the Orfitrans range, self supporting.

High impact resistance.

Orfitrans Stiff will not break, crack or shatter when dropped. 

Virtually indestructible.
High fatigue resistance.
High stiffness.
Transparency
The socket will remain transparent.

Clear, slightly blue colour.

The limb remains visible when wearing Orfitrans Stiff.
Low shrinkage
No risk for excessive pressure or compression.
The socket material will keep the shape and dimension determined by the mould.
Working properties
Non-sticky.
Bubble forming.
Pulls easily and uniformly.
Aspects
Styrene based.
Delivered with protective PE-foil. PE-foil has to be removed before activation.
Activation
160°C.
Activation time according to thickness.
Product range
Product is available in different thicknesses and sheet sizes.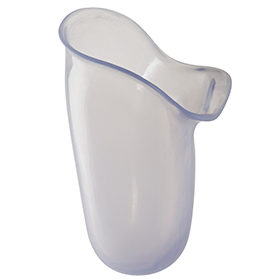 Colour
Thicknesses mm (inches)
Documents
Instructions for use
Technical data sheet
Safety data sheet
Using Orfitrans for 5 different O&P applications – examples by 'Titan O&P Fabrications'
Read More
Find your Orfit-distributor
Interested in our solutions? Contact your local Orfit-distributor for information, inquiries and prices.